About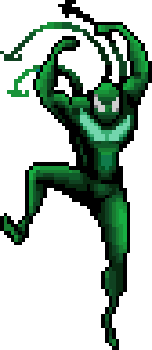 Spider-Man and Venom: Separation Anxiety is the sequel to Maximum Carnage. It plays exactly like its predecessor (and has the same enemies) but this time around it's a two player game. It still has the elements the series is known for such as web-based projectiles and accuracy-based power attacks.
Marquee
Story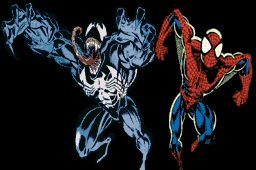 The Mysterious Life Foundation captured the lethal protector called Venom, and removed five symbiote spawn from him. But before these new symbiotes could destroy their "parent", Venom escaped. Now he is forced to seek out his old foe Spider-Man, and forge an uneasy alliance with the wall-crawler to stop these symbiotes and cure his...
SEPARATION ANXIETY
Trivia

Despite being a sequel, this game looks like it came out first because of its smaller and more cartoony graphics. Likely this was a concession to make 2 player gameplay possible.

The enemies in this game got a slight graphics downgrade but they're almost identical to those found in the first one.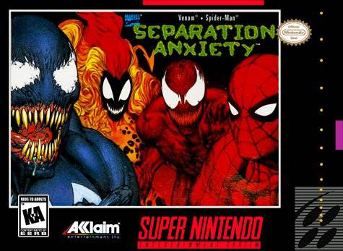 Release Info

Nov '95
Game
Combat
Attack, Jump, Special, Web
Style
Numbers

























Separation Anxiety starts off with an awesome theme song. Unfortunately, it's all downhill from there. This is a huge step back from Maximum Carnage despite being a sequel. Its gameplay hasn't changed besides being co-op, its enemies are as abysmal as ever, and the graphics and sound got a lot worse.