About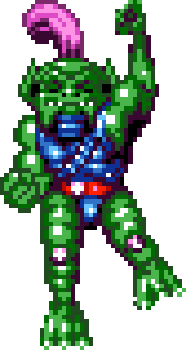 Stone Protectors is a two player brawler from Kemco based on what are basically the Ninja Turtles version of Trolls. It features five characters, surprisingly high-quality graphics, and absurdly large movesets. In addition to multiple attack buttons including weapon attacks, each Protector has multiple throws, aerials, and even death-blows.
Marquee
Story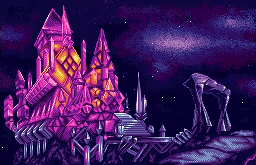 There it is Zok, the Crystal Palace of Mythrandia! We will soon have it in the palm of our hands. It will be ours!

Mine, Zink! It will be mine!

Zok's army has breached our defenses Princess Opal! Perhaps we should abandon the palace...

No, at least not until I know the Great Crystal is safe.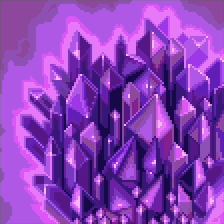 If Zok gets his hands on it, there will be no stopping him!
The palace defenses are crumbling under my power!

Soon the Great Crystal of Mythrandia will be mine! Forward, Saurians, to the Crystal Chamber!

Please, please hold Zok long enough to summon the power of the Great Crystal!


Stand aside! Let Lord Zok reclaim the Great Crystal!

Never! You will never get the Crystals!

Go Crystals, fly free! Escape while you can!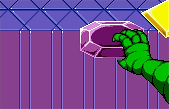 Come here my black beauty!

I have you now, my lovely! Nobody can stand in my way!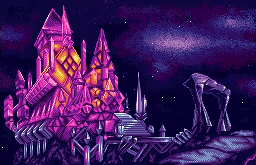 Fly!...Fly free! Find the Stone Protectors!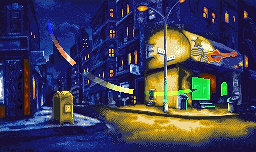 Chester


Maxwell


Clifford


Angus


Cornelius
Trivia

Stone Protectors were an attempt to make those weird little troll dolls appealing to little boys by ripping off Ninja Turtles.

There was a short-running cartoon based off Stone Protectors.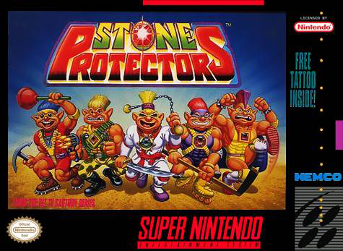 Release Info

Nov '94

Apr '95
Game
Combat
Punch, Kick, Weapon, Jump
Style
Numbers

























Don't underestimate Stone Protectors. Despite being based off of a retarded license, it's a shockingly high-quality brawler featuring ginormous movesets, extremely unique characters, plenty of stages, and a serious challenge. The graphics are above average but the music is fairly hokey and annoying.