About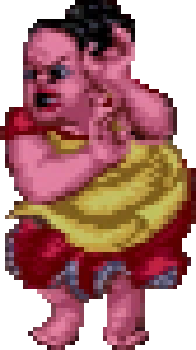 D.J. Boy is a port of Kaneko's Hip Hop-themed rollerskate brawler. The arcade, Genesis, and Mega Drive versions are all unique games that feature different stages and enemy layouts. The Arcade version is the hardest, the Genesis version is slightly easier, and the Mega Drive version is the easiest by far.
Marquee
Story
Cigaretch City is a lively town on the outskirts of New York. A new sport has become popular amongst the children in Cigaretch City.
The sport is Rollergame! Rollergame is an exciting battle of technique and speed. It is a thrilling game of out-running and being outrun. Rollergame is somewhat like the ultimate fight-race. A rollergame competition is coming up soon and the children in the town are excited.
Just before the competition, a young man turns up in town. His name is Donald J. Boy, and he's nicknamed D.J. Boy. D.J. Boy has actually toured the world as a roller fighter, and he just happens to drop into Cigaretch City with his girlfriend, Maria.
When news of D.J. Boy gets around, the town gets all excited. But not everyone is happy. D.J. Boy being around doesn't please the bad roller team, the Dark Knights.
The Dark Knights leader Heavy-Met Tony, calls his gang together straight away. "We can't afford to lose the next competition. We have to do something about that D.J. Boy.""

"What are we gonna do? Go on, tell us!"
"Not cause a fuss, Let's get him to come over."
"Hey, it's gonna be real bad news if that D.J. Boy gets into the competition"
"Help! Help! Aah......!!"

"Maria......!"
D.J. Boy comes running, but the Dark Knights are one step ahead of him, and Maria is carried off.
"You coward, Tony. Well, it's just a question of who is the better rollerskater!"
D.J. Boy sets out in search of his true love, Maria.

Trivia

The Genesis version has a tunnel section where you can only see a small radius around D.J. Boy. This is not present in the Mega Drive or arcade versions.

The U.S. version color-swapped the first boss and made her throw pies instead of fart. This was likely due to the racially insensitive original character design.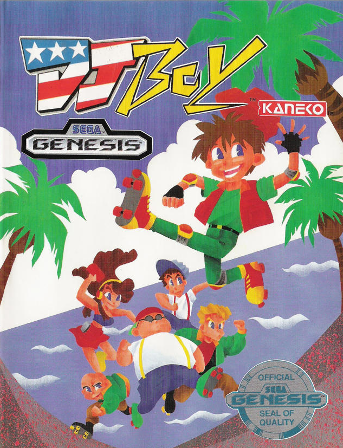 Release Info

May '90
Game
Combat
Style
Numbers

























I love D.J. Boy. The combat is simple and emphasizes spacing but it's solid and very satisfying. There are a lot of level gimmicks and platforming elements but they're not so bad once you memorize the stage. The presentation is modest yet charming. The US version is way harder than the Japanese one and features slightly different graphics.