About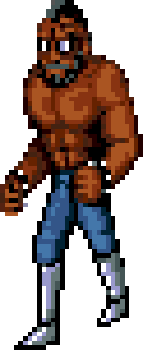 Double Dragon is a landmark brawler that introduced scrolling levels, items, and simultaneous two-player gameplay, changing the genre forever. Although Renegade came out first, Double Dragon was the first internationally successful brawler. Its unprecedented co-op gameplay, expansive movesets, and iconic soundtrack allowed it to dominate the arcade beat 'em up scene for several years and solidify its status as a cultural phenomenon. To this day it remains one of the most widely recognized brawlers.
Marquee
Story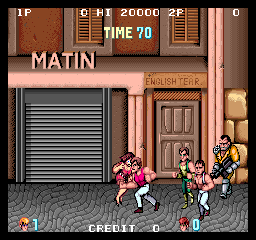 In the year 19XX, half of the world was ravaged by a nuclear war and violence ruled the streets in America. One of the most violent gang in America was called the Black Warriors, who ruled the streets with no mercy. Yet two siblings named Billy and Jimmy, trained in the arts of the Sousetsuken and owners of the Sousetsuken Dojo, were brave enough to face the Black Warriors. They taught their Martial Arts to their city and people gave them the nickname, the Double Dragon. Among Billy and Jimmys pupils, there was a female instructor named Marian, who was also Billys lover. The Black Warriors waste no time to capture her and lure Billy to their hideout. Now, Billy must penetrate the Black Warriors to save his girlfriend and face agaisnt the boss of the Black Warriors, Willy, once and for all. Billy enlists the help of his twin brother Jimmy in order to save Marian.
Trivia

As of 2014, Double Dragon has been ported to over 20 platforms, ranging from old computers like ZX Spectrum to Android.

A Double Dragon live action movie was released in 1994. It was critically panned and followed the game's story and characters only very loosely.

Technōs attempted to convert Double Dragon to a fighting game, twice. There's Double Dragon on the Neo Geo and Double Dragon V: Shadow Falls on the SNES. There's also a Neo Geo fighting game called Rage of the Dragons which was supposed to be a DD fighting game but got the license dropped during development.

For some reason, thrown items like crates and barrels make the game lag considerably. Try to throw them offscreen to increase the framerate.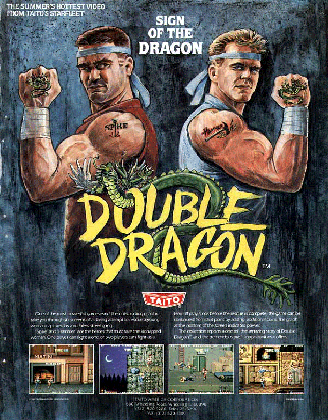 Release Info

Jan '87
Game
Combat
Style
Numbers
Arcade
Credits

























Despite being a landmark brawler, I kinda hate playing Double Dragon. Despite its huge (although wildly imbalanced) moveset, stiff challenge, and extremely iconic OST, this game is dragged down by a single glaring flaw: it lags constantly. Whenever there are too many enemies onscreen, or just a single barrel, the action slows down to an unbearable crawl.