About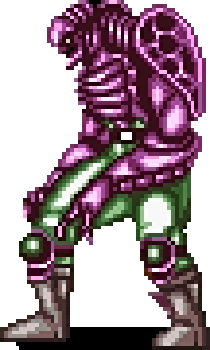 Sonic Blast Man is a groundbreaking single player SNES-exclusive brawler. Its gameplay emphasizes stunning enemies by knocking them down to critical health and keeping them onscreen so you can unleash a powerful Tornado Throw. Its steep challenge is defined by powerful enemies that demand mastery of brawler fundamentals to defeat. Its graphics feature gigantic sprites and several Mode 7 effects. Its ultra-catchy soundtrack is composed by Taito's legendary house band, Zuntata.
Marquee
Story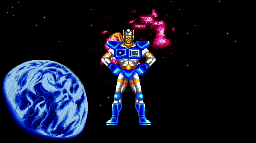 THE HERO OF JUSTICE HAS ARRIVED FROM A PLANET FAR AWAY TO PROTECT THE EARTH. HIS NAME IS...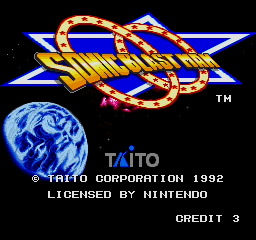 SONIC BLAST MAN
Trivia

The original Sonic Blast Man for the arcades wasn't actually a beat 'em up. It was basically a punching bag attached to a screen that you have to hit as hard as humanly possible. However, these were kept for this release as the Hit Stages between levels. Of course, there's no punching bag, so you have to rotate the D-pad instead.

Like the US localization of Final Fight before it, female enemies in this game were changed to males to appease Nintendo of America's censorship policies.

There's also Sonic Blast Man II on SNES, but it's completely different. It abandons the innovative gameplay for something far more generic and has way smaller sprites, but at least it's two-player.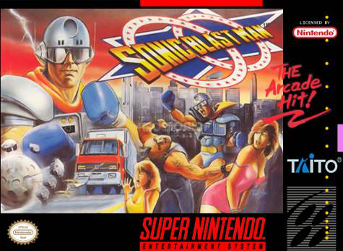 Release Info

Feb '93

Sep '92
Game
Combat
Attack, Jump, Special, DP On, DP Off
Style
Numbers
Credits

























Sonic Blast Man is my jam! It has an extremely technical, difficult, satisfying, and unique combat engine. The enemies are varied and get progressively weirder. The sprites are huge, the pixel art is excellent, and the music is pure Zuntata goodness. This is the best single-player brawler ever made in my opinion.