About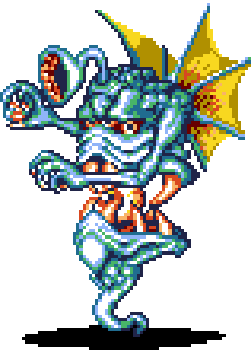 King of the Monsters 2 is a hybrid brawler/wrestling game that features fights between Japanese-style giant city-wrecking monsters. It's a port of the original arcade version. It has both two player co-op and versus gameplay modes. Its combat features multiple attack buttons, a grappling mechanic, and charge-based special attacks that range from teleportation to growing a horn and breaking it off to use as a weapon.
Marquee
Story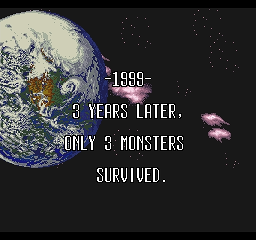 -1999-
3 YEARS LATER, ONLY 3 MONSTERS SURVIVED.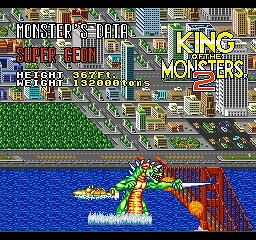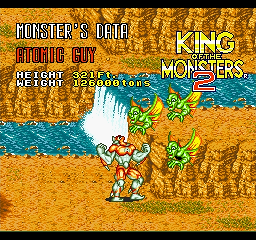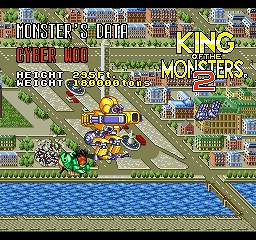 EVERYONE BELIEVED THEY WOULD RULE THE EARTH, BUT...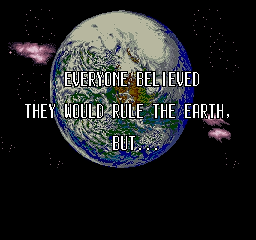 Trivia

The Genesis version of this game has fighting game-style inputs to execute the special attacks rather than the charge system found here.

King of the Monsters 1 is a pure 1-on-1 wrestling game without brawler sections.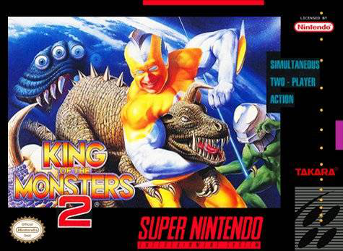 Release Info

Jun '94

Dec '93
Game
Combat
Punch, Jump, Kick, Recover, Special
Style
Numbers

























King of the Monsters 2 has an excellent concept that's backed up by decent gameplay and excellent art. It's fun as a single player game, for co-op, and even vs. The fighter and enemy design is colorful and bizarre, plus there are a ton of fully-animated bosses. Its biggest weak-point is its somewhat simplistic combat, especially the randomized grapplin.