About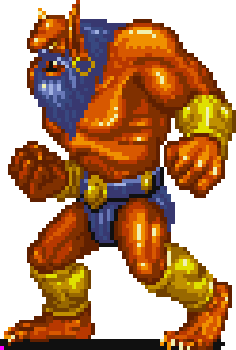 King of Dragons is a two player port of Capcom's medieval fantasy arcade brawler. Its extremely simple combat engine is reinforced by an RPG-style experience-based leveling system as well as acquiring new weapons and shields that change your character's appearance. It features an unbelievable 16 stages and an impressive amount of enemy and boss variety.
Marquee
Story

The red dragon, Gildiss, has crushed Peace under his iron tail. He must be stopped.

FIGHTER - His fiercest ally is his sword but when it comes to magic, he prefers to leave that to the guys in the bathrobes.

CLERIC - Although unable to use edged weapons, he takes pride in his powerful defensive abilities and can advance his level quickly.

I've heard that many villages are being decimated by rampaging monsters. The folk of the northern castle are especially in trouble.

WIZARD - He may be a slow mover and not be too handy with a sword, but after he's garnered a little experience, only the foolish dare to hazard his mean side.

ELF - Ever nimble, he can often pick-off the enemy from a distance with his bow. If it comes to close range, however, he can't handle too much abuse.

DWARF - Though small, he is 100% pure muscle and can handle the harshest punishment. Kind of a slow study his level does not advance too quickly.
Trivia

This is a remarkably accurate port that sacrifices next to nothing when compared to the original.

The Wizard is easily the best character. He's slightly weak at first, but his attack is still ranged. At the end of the game, he has higher stats than everybody else.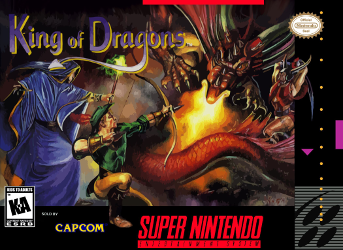 Release Info

Apr '94

Mar '94
Game
Combat
Style
Numbers

























King of Dragons is unbelievably fun and satisfying despite the fact that the combat is essentially composed of a single attack. That's because the enemy and especially boss design is pure Capcom gold. Fighting is never boring because of the well-designed and varied opponents. Plus it has an unheard-of 16 stages, more than any other SNES brawler.