About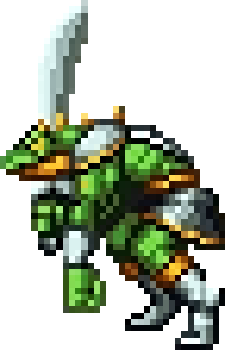 Dragon View is a single-player SNES-exclusive hybrid brawler/RPG from Kemco. You talk to NPCs in towns, buy items, and explore a 3D Mode 7 world. When you encounter the enemy, you fight them in traditional beat 'em up combat. Its combat engine is a simple attack/jump/magic setup, although you gain a few new weapons and abilities over time. You also gain experience and level up your stats by defeating enemies.
Marquee
Story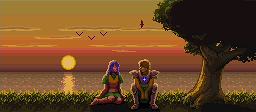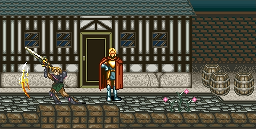 "Ha ha! GOOD!" Damme exclaims, "That's 10,000 sword thrusts! And in record time, too! Well, well... aren't you energetic this morning?" he jibes, "What's got you in such a good mood?"
You just smile, raising your eyebrows.
"Look at you, grinning like and idiot." Damme chuckles, "Since you're in such a good mood... How 'bout 30,000 more!"
Your jaw drops, and your smile fades, "Surely you jest!"
Damme laughs heartily, "Ha ha... gotch! And don't call me 'Shirley'!"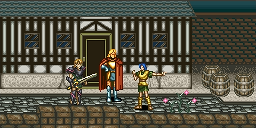 Suddenly, Katarina runs up to you! "Guys!" she pants, "Have you seen grandfather?"
"Master Qunos?" you ask, "Not recently, why?"
"This morning, he went to the arsenal, but he hasn't returned yet." she replies. "He should have been back by now, and I'm worried."
"I'm sure he can look after himself," you say, comforting her, "But, I'll check on him just to be sure."
"Hmmph!" Damme snorts, "You just want an excuse to get out of your workout!"
Katarina flares a bit at that, "Come off it, Damme, You know Alex isn't like that." She bats her eyes at you, adoringly. "Thanks Alex. It will make me feel better to know Grandpa's okay."
"Do be careful, Alex, there seem to be more demons around than usual."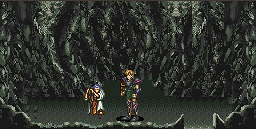 Master Qunos tries to rise, but, "Ooo... I never thought I'd get whipped by a wizard, I must be getting old." As if suddenly remembering, he says, "I'll be alright, but Katarina's in danger! Hurry back to Rysis and stop Argos!!!"
"Who's Argos?" you ask.
"No time... GO NOW!" Qunos commands.
"Yes, master!"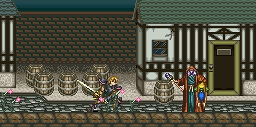 "Alex, Help me!"
Fear tenses in your gut as you dash along the deserted street, and cry out a challenge. "Argos! Have you the courage to face a warrior? Or are cowardly attacks on the helpless all you can muster? Release this girl!"
Argos turns his fearsome visage towards you... A voice like the growl of a thousand demons assaults your ears. "A feisty young morsel, are you, eh? Stay back! I shall only warn you once!"
Bracing yourself to strike, you swear between clenched teeth, "And I too, warn only once! Today you DIE, wizard!"
You charge, but Argos repels your attack as if you were only a pesky gnat! Again, Argos' evil voice reverberates within your head, "You are fortunate, whelp, that I am expected at Keire Temple. You do not die this day, but we will meet again!"
You prepare to renew your attack, "First, you must get by me, for this town has only one gate!"
Argos laughs cruelly. "Sorry, 'brave' warrior, but we shall leave now, and your puny gate will not bar my passage! Ha ha ha ha!" With that, Argos and Katarina vanish.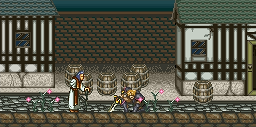 "Alex!!!!!!!!" Katarina's screams echo through the deserted streets. Leaving you alone...
Master Qunos hobbles over to where you have collapsed in despair. "Huff, puff... Alex, where is Argos?"
Sadly, you answer your Master's question, "Oh master, I'm so sorry... I couldn't stop him."
Qunos sighs, "I see... Do not blame yourself, Alex, you did your best. Argos is strong in the evil ways. That is... What? What is this? Isn't this the pendant you gave Katarina?"
You jump up, as Qunos hands you the pendant. "Katarina... I won't just stay here and let her be taken from me! I'll save her, Master! I swear it!" You rush from town.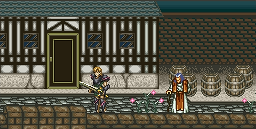 But Qunos calls out to you, "Wait, Alex!" In a commanding tone that brings you out of your blind rage, Qunos speaks, "These are no back alley thugs or weakling monsters you face! No indeed! You shall face beings of great power, and vicious, evil demons. When my friend Neil left Katarina in my care, I knew that one day I could no longer protect her. But I'll not pass those duties to a hot-headed, over-eager fool! NOW LISTEN UP!!! Take this jade and go to Hujia. Buy equipment you may need. Check back with me occasionally. I might be able to help. Go carefully, and use your BRAIN as well as your BRAWN! Katarina's life rests in your hands."
Trivia

This is the sequel to Kemco's Drakkhen, which was a strange RPG/point and click adventure game.

This is the only single-player RPG/brawler hybrid on the SNES.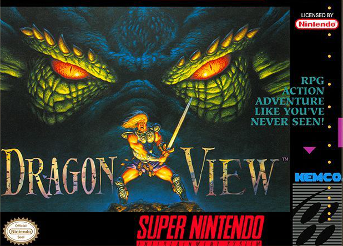 Release Info

Nov '94

Aug '94
Game
Combat
Style
Numbers

























Dragon View is solid. Its core combat is satisfying and tight, and the RPG elements and exploration complement it nicely. The graphics and sound are both good but not amazing. The combat could be more complex (or at least have more than two weapons) but it gets the job done. The world design is disappointingly standard.