About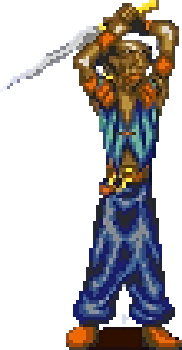 The Pirates of Dark Water is a licensed two-player beat 'em up from Sunsoft that's based off the Hanna-Barbera cartoon show of the same name. Although its gameplay is very similar to Final Fight, it incorporates weapon attacks alongside normal punches and kicks. It's a lengthy, well-made brawler with plenty of enemies, bosses, and stages.
Marquee
Story

On the distant and watery world of Mer, the dying King Primus escapes from the evil pirate-lord, Bloth, to reveal to Ren his past and his destiny. Ren, the son of King Primus, must save the planet, Mer and his home, Octopon, from the deadly Dark Water.

By collecting all the Treasures of Rule, Ren can control the Dark Water and return Mer and Octopon to their former glory.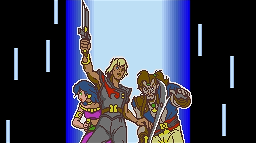 Ren and his crew, Ioz, the hardened ex-pirate, and Tula, the adventure-seeking heroine, must embark on a journey that will constantly test Ren and his crew's strength and dedication toward the quest for the Treasures of Rule. The evil pirate-lord Bloth and his army of ruthless pirates also seek the Treasures of Rule.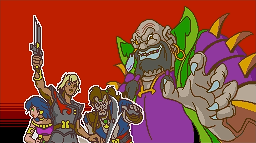 Bloth and his ship, the Maelstrom, are always one step behind Ren. If Bloth can collect the treasures before Ren and his ragtag crew, the planet Mer is doomed to the Dark Water and Bloth's tyranny forever.
Trivia

There's also a Genesis game called The Pirates of Dark Water, also from Sunsoft, but it's an exploratory action platformer instead.

Keep an eye out for subtle racism around the third stage or so.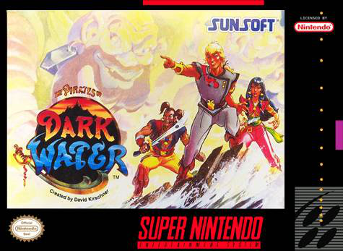 Release Info
Game
Combat
Punch, Weapon, Jump, Block
Style
Numbers

























Pirates of Darkwater is a solid game that feels halfway between a Konami and Capcom brawler. It plays like Final Fight with weapon attacks that mainly act as combo finishers and spacers. The enemies are goofy and have decent variety. The music and sound are above average as well. Unfortunately, it's too long for its own good and drags on near the end.