About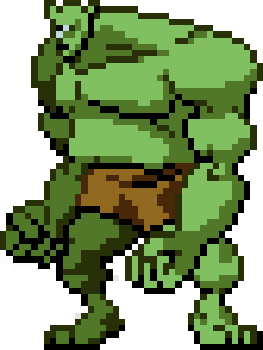 Advance Guardian Heroes is a pseudo-sequel to Treasure's unusual Saturn brawler. Unlike its predecessor, this game uses a standard free-roaming brawler system rather than the three lane setup of the original. It still features magic attacks and light RPG elements, though. Additionally, it adds a unique death system where you have the option to play through the rest of the stage with invincibility when you die (although it's Game Over when you finish the level.)
Marquee
Story
You think everything happened by luck?
You think you found the Soul Sword and met the Undead Warrior by accident?
Everything was done with the magic concealed in the Soul Sword.
We chose the best potentials called humans to be our ultimate warriors.
You have been walking on the road we prepared.
You are the strongest ultimate warriors I have ever seen!!
However, you must remember I led you into getting the ultimate power!!
Now come to me! And... come into the new world!!
Here is the world I created.

A long time ago...
Heroes saved the earth from the chaos, with the help of an undead. The corpse returned to dust with his sword as his gravestone. The heroes did one last battle against the heavens...

As long as you're from this world, you cannot resist me! Soul of Heroes, that made you heroes, left this world. Lastly, I will ask you one last time. Obey me, Ultimate Warrior, or so-called the hero of the earth. Otherwise, I will pull out your soul and make you my slave warrior.

Huh, you've got to be kidding me! Even if we lost Soul of Hero, our "souls" will never surrender!

He's right! It's not about the Soul of Hero, but our souls! Who could be a real hero without one's own soul? No one!

If no one believes, Soul of Hero won't be able to return...

Heh heh... seems like you all have decided.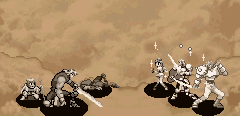 Argh... How could this happen...

Gi, Gijirouuuu! What? What happened!? Cerena, Valgar! You won't give up even if you have no chance of winning, will you!? (Nicole might...)

Hey! Are you making fun of me?

Han...

Uh?

Sorry!!

Ahhh!!!!! Randy, you too!?
...That all happened in the heavens a long time ago... Now, while people no longer remember about the heavens, on the earth...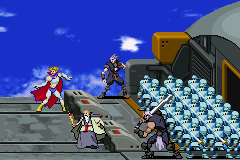 Soon... My dream to rebuild my magic kingdom will come true soon.

Hee hee hee... Finally our time has come, Master Kanon!

Hmm, my dark magic can create unlimited number of soldiers. Zur, thanks to your revival skill, those legendary heroes are now our servants. Now the last thing to do... destroy the resistance members and their HQ. Hah hah!

Heeehee, hee!!

Report! A party of the resistance broke into the 3rd base area.

Grave of the Undead Hero is near the base. I can sense something is going on there.... Zur, just in case, go take care of them. Dylan, stay here and stand by.

Yes, sir!

You can count on me, Master!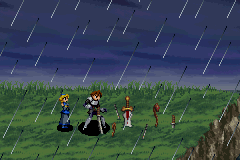 I still think it's not a good idea... If we unlock the Soul Sword, you will...

Princess... The Empire Fortress has gone ahead. Hurry, or all will be wasted!
This is... Soul Sword... The grave of the Undead Hero...
Trivia

Moreso than the original Guardian Heroes, this game strongly resembles Treasure's first game: Gunstar Heroes on the Genesis, which is a Contra-style shooter.

The characters featured in the intro cutscene were the playable fighters in the first game.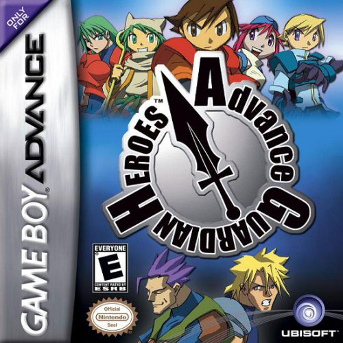 Release Info

Sep '04

Sep '04
Game
Combat
Weak, Strong, Jump, Magic
Style
Numbers

























Advance Guardian Heroes is easily the worst Treasure game by far. It inexplicably abandons the original's lane system in favor of a much blander, simpler combat engine. There aren't unique fighters so much as there are just color-swaps of the same one. The sound is mediocre, and the graphics have way too small of sprites for a portable game.