About

Ninja Boy 2 is a hybrid RPG/brawler for the Game Boy. It's a loose port of Little Ninja Brothers on the NES, although it's only single player and the story has changed. You travel around an overhead map, talking to townspeople and taking on quests like an RPG, but when you encounter an enemy the game switches to traditional brawler combat. You also gain experience and can buy items to help you on your mission.
Marquee
Story
It has been a few months since Jack and Ryu, the Ninja Boys, had left their country, Chinaland.

Here they are in the Marco Polo Clustars far away from the Earth. Jack and Ryu are enjoying a space trip with their friends.
Suddenly!

A monstrous battle ship came into sight!

"We're the warriors of the galaxy. You'll be removed from our way by force!"

"Get into a life capsule and get out! Quick!"

Jack: "Where are we now?"
Ryu: "I don't know. Some odd planet, I guess."

Jack: "Oh, no, Mommy!"
Ryu: "Knock that off!"
Jack: "I'm sorry. Darn it! The Galands!"
Ryu: "I wonder where the rest of the people went."
Jack: "They must be somewhere around. Let's go find them."
Ryu: "All right."
Trivia

If you like this game, try the NES version, Little Ninja Brothers. It has co-op gameplay.

In Japan this is part of the Super Chinese series of games, which spans several games across Arcade, NES, SNES, and Game Boy.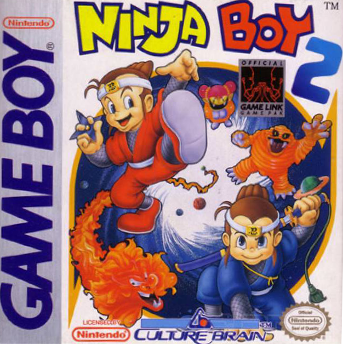 Release Info

Apr '93

Nov '91
Game
Combat
Style
Numbers

























Ninja Boy 2 is basically a pseudo-port of Little Ninja Bros., and the formula works great on the Game Boy. It's perfect for short gameplay sections and the hybrid gameplay is refreshing. Unfortunately, the password system makes continuing your old game extremely tedious. The graphics are pretty good but the music is way too limited.