About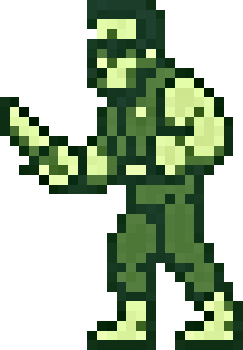 Double Dragon II is the second DD game on the Game Boy, and the first on the system to feature two-player brawler gameplay. Its combat is more similar to the original Double Dragon than The Revenge. It also replaces the jump with a crouch that can be followed up with a flying uppercut. This game is actually a re-working of Nekketsu Kouha Kunio-kun: Bangai Rantou Hen with new graphics and music yet identical stages and gameplay.
Marquee
Story
AFTER THE BLACK WARRIORS WERE GON, IT WAS VERY CALM IN THE STREETS OF N.Y.
AGAIN BILLY AND JIMMY WERE READY TO TRAIN THEIR MARTIAL ARTS.
THEY JOINED A TRAINING HALL CALLED "SCORPIONS".
THE BOSS, GORDON HAD MADE THE "SCORPIONS" A GOOD NAME.
THE GUYS THAT TRAINED THERE WERE VERY STRONG.
IN ONLY A FEW MONTHS BILLY AND JIMMY BECAME TEACHERS.
BUT THERE WAS A GUY THAT DIDN'T LIKE THIS.
HIS NAME WAS ANDERSON.
ANDERSON SHOT WRIGHT AND TRIED TO FRAME BILLY AND JIMMY.
AT ONCE, GORDON GAVE OUT ORDERS TO GET BILLY AND JIMMY.

GORDON: "BRING BILLY HERE."

ANDERSON: "OK BOSS"
Trivia

There is no Double Dragon II for Game Boy in Japan. That's because this game is basically a sprite and music-swap of the game Nekketsu Kouha Kunio-kun: Bangai Rantou Hen.

The gut-jump attack seen in this game would later make appearances in Double Dragon III: The Rosetta Stones for the Arcade and Double Dragon Advance on the GBA.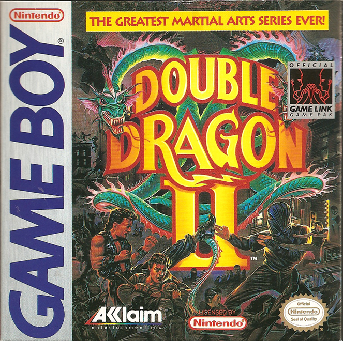 Release Info

Dec '91
Game
Combat
Style
Numbers

























Mang, I love this game. The attacks are fun to use and feel as violent as a Game Boy game can convey. The excellent high-energy music is definitely the highlight of the package, and the graphics are clear and feature distinct areas. Unfortunately, the combat could be a lot better because uppercuts dominate everything.