About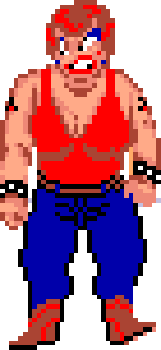 Renegade is the Western localization of the very first brawler ever made, Nekketsu Kōha Kunio-kun. It defined the genre with its 3D movement, many simultaneous opponents, expansive moveset, and accessible yet challenging gameplay.
Marquee
Story
In the knife-edge world of the vigilante, there is no place to rest, no time to think - but look sharp - there is always time to die! From the city subways to the gangland ghettos you will always encounter the disciples of evil whose mission it is to exterminate the only man on earth who dares to throw down the gauntlet in their path - the Renegade! PLAY RENEGADE... PLAY MEAN!
Trivia

Renegade's unique left-right attacking system was later reused by Double Dragon II, also by Technōs.

Renegade is the only single-player arcade brawler ever made. Although there is technically two-player support, they have to switch off rather than fight together. It's also the only arcade brawler without continues, and the only one that repeats when you finish it.

After beating the game, Renegade repeats infinitely until you die.

Golden Axe's Kanji logo has a hammer, sword, and axe hidden in it.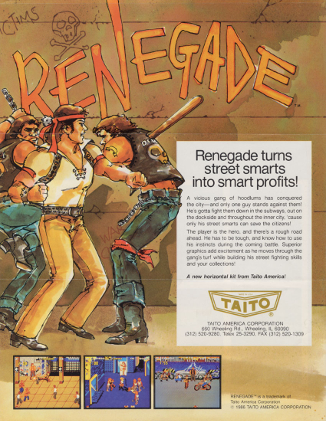 Release Info

Dec '86

May '86
Game
Combat
Style
Numbers
Arcade

























Renegade is my jam. At first, I hated it because the combat takes some getting used to and the graphics are a big initial turn-off. However, once I mastered Mr. K's moveset, this became one of my favorite games. Nothing's more satisfying than sitting on enemies and punching them in the face, and the music is fantastic.