About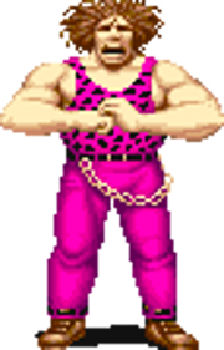 The Crystal of Kings is an obscure late-generation weapons-based beat 'em up that features pre-rendered graphics, a unique morality system, and a halfling archer that rides an aardvark. It has multiple endings based on character choices such as attacking innocents or stealing gold.
Marquee
Story
It was an age known as "The Twilight of the Gods"... when the gods forsook our land, leaving behind only the power of the crystals that made our world.

These crystals changed their form according to the ambitions of their possessors... At one time, the crystal of the most prosperous land in our world was stained with an evil ebony. It is this crystal alone that we seek. The Crystal of the Dark Kingdom!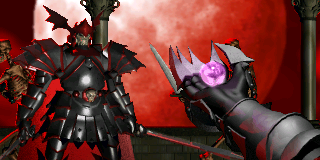 O, Crystals! Crystals! Crystal of Creation! Crystal of Magic! Crystal of Power! ... Crystal of the Kings!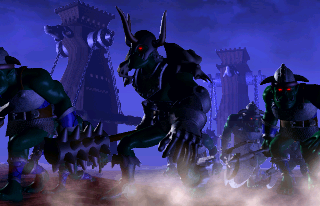 Go forth! Warriors of the Crystal of Darkness! Shroud the world in Darkness! Seize all of the crystals of creation! And we shall possess the world in its entirety!

Cocco! Listen well! This world is presently being swallowed by the maw of Evil!

Nightspirit, the wiked magician who pilfered the Crystal of Estorea, is increasing his forces daily with the strength of the Crystal of Darkness.

Cocco! Listen well! The countries of the remaining crystals have allied in the struggle against Nightspirit. Alas, I, however, am too old...

Cocco! Listen well! I confer this country's crystal to you. Cocco! Listen well! Defeat the wicked magician Nightspirit, And return the Crystal of Darkness to me.
Go forth with the comrades of the crystals.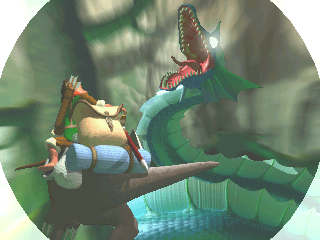 Trivia

The Crystal of Kings was developed by Eolith and Brezzasoft, who are composed of former SNK employees.

This game runs on the rare Crystal System, developed in Korea. Like SNK machines, it's a general cabinet that plays removable cartridges.
Release Info

Feb '01
Game
Combat
Style
Numbers
Arcade

























The Crystal of Kings is above-average in most respects except for its music and dated CGI look. It has an extremely unique gimmick, very solid combat, and impressive bosses. It can't stand up to other late-generation greats like Guardians, but it's surprisingly high-quality despite its obscurity.