About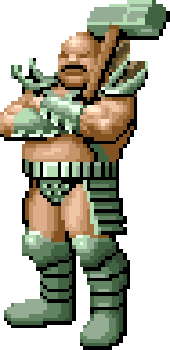 Golden Axe created the hack n' slash sub-genre of brawlers. Its weapons-based combat, screen-clearing magic attacks, mountable creatures, and barbarian aesthetic made it one of Sega's most successful early franchises. It's also notable for its short playtime, casual difficulty, and unique scoring system.
Marquee
Story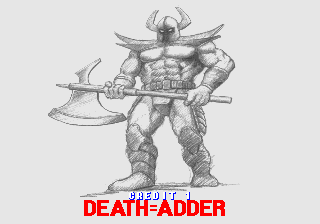 In the land of Yuria, Death=adder has invaded the castle and taken the King and Princess prisoners. He threatens to kill the royal family if they do not accept him as their ruler. Three warriors, each victims of Death=adder's violence, set out to defeat him and bring peace to the land.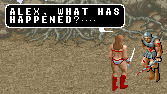 Trivia

Golden Axe was developed by the same team as Altered Beast. Both games share the Chicken-Leg enemy.

The characters in Streets of Rage II are named similarly to Golden Axe's fighters. Compare Axel Stone to Ax=Battler, Blaze Fielding to Tyris Flare, and Max Thunder to Gilius Thunderhead.

Golden Axe uses scream samples from the following films: Commando, Rambo: First Blood, Conan the Barbarian, and An American Werewolf in London.

Golden Axe uses a unique "Strength" system rather than a traditional score. It's calculated as follows:
Strength = ((0.5 + 0.5L) * E * A) * M. L is the current level you're on (1-5). E is for Enemy. Normal enemies count as 1, bosses are 2, and Death=adder is 8. A is for the attack you kill the enemy with. Banging the top of their head followed by a kick is 3, a normal kick or throw is 2, and anything else is 1. Finally, this is multiplied by M, your Magic Multiplier (see below.) At the end of the game, your Strength for all kills is aggregated and then divided by the number of times you died to calculate your final score.

It is possible to increase your Strength by skillfully using magic. After you kill an enemy, every time you hit them with magic afterwards multiplies your Strength. If you line up a row of Pots and quickly use magic before the enemy hits the ground, you can achieve ridiculously high Strength scores.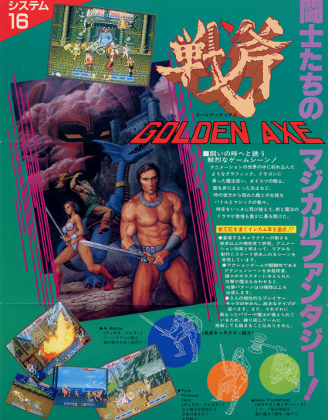 Release Info

Jun '89
Game
Combat
Style
Numbers
Arcade

























Golden Axe is a true classic. Its combat is deliberate, satisfying, and introduces innovative distance-based attacks. The graphics are humble yet somehow have a lot of charm. The world design is fairly bland but at least there are giant pink chickens to liven things up. The music is extremely well-composed and fits the tone perfectly.