About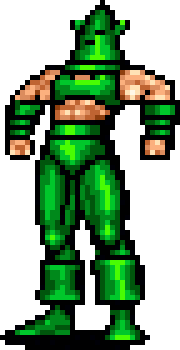 Captain America and the Avengers is a Marvel-licensed brawler developed by Data East. Captain America, Iron Man, Hawkeye, and Vision are playable characters and other Avengers join the battle in the form of special attacks. Its action is defined by unique character abilities, shooter stages, and projectile attacks.
Marquee
Story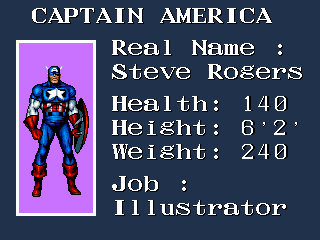 CAPTAIN AMERICA - Picked for the experimental 'Super Soldier' project during World War 2. Trained to become a one-man army. A combat expert, his special skill is his shield-throwing ability.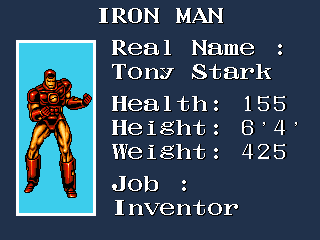 IRON MAN - President of Stark Industries, he is an inventor of new weapons. His power comes from his steel suit of armor. With his armor he can travel under water or into space.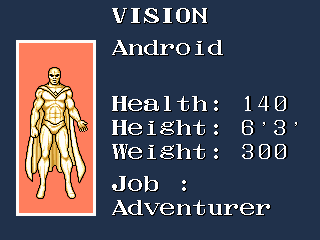 VISION - An artificial being with great knowledge of biology and engineering. His power comes from light gathered by the gem in his forehead. He uses this light energy to fire his solar beam.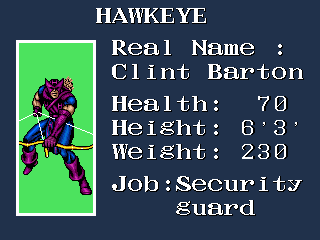 HAWKEYE - Hawkeye received his training under Captain America. He is also a naturally skilled marksman with any thrown or aimed weapon. He has superhuman power of sight and is skilled in the bow and arrow.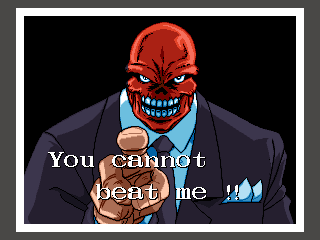 You cannot beat me !! Hahahaha!
Trivia

The villains featured in this game include Klaw, the Living Laser, Whirlwind, Sentinels, Wizard, Grim Reaper, Mandarin, Juggernaut, Ultron, and Crossbones.

This game was ported to Genesis, SNES, Game Boy, and Game Gear. There's an NES version, but it's a completely different action platformer.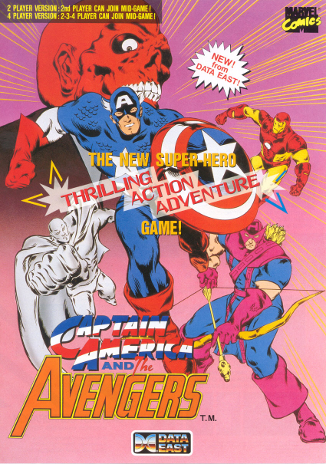 Release Info

Jan '91
Game
Combat
Style
Hand-to-hand, projectiles
Numbers
Arcade

























Captain America and the Avengers is a mixed bag. On the one hand, its projectile-heavy combat and variety stages were fairly unique at the time. On the other hand, the graphics were awful for the time and the music is catchy yet has grating instruments. It's competent, and Marvel fans might get a kick out of it, but overall it's mediocre at best.