About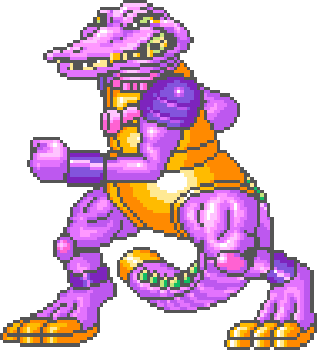 Bucky O'Hare is a licensed brawler from Konami featuring fully animated and voiced cutscenes. It emphasizes projectile attacks more than any other brawler, to the point of almost being a run 'n' gun shooter. It's also notable for having persistent weapon upgrades that are only lost on death.
Marquee
Story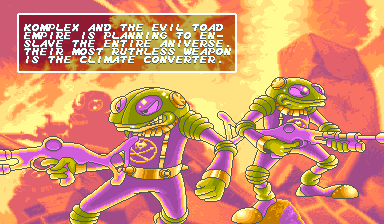 Komplex and the Evil Toad Empire is planning the enslave the entire Aniverse. Their most ruthless weapon is the climate converter.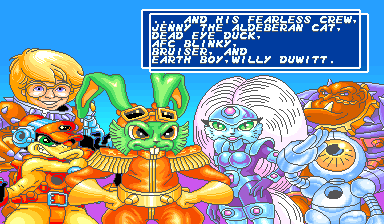 The fate of the Aniverse is in the hands of Bucky O'Hare, brave captain of the Righteous Indignation ... and his fearless crew, Jenny the Aldeberan Cat, Dead Eye Duck, AFC Blinky, Bruise, and Earth Boy, Willy Duwitt.
Trivia

Bucky O'Hare is based off of a late 70's comic series by Larry Hama and Michael Golden. It features an alternate universe with sentient, bipedal animals. The United Animal Federation fights against the Toad Empire, who's led by a supercomputer called KOMPLEX.

Konami also released a Bucky O'Hare game for NES, although it's an action-platformer instead of a beat 'em up.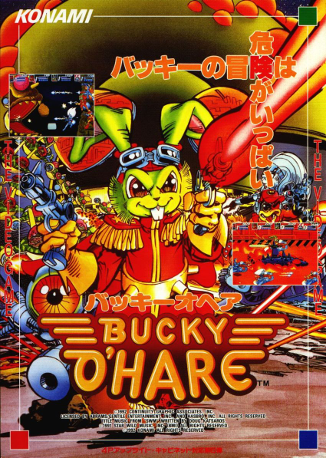 Release Info

Sep '92
Game
Combat
Style
Numbers
Arcade

























Bucky O'Hare is the best brawler that focuses almost exclusively on projectiles. Like any other licensed Konami beat 'em up, its combat is super simple, its challenge is modest, and it's bursting at the seams with personality and references to the license. Great for a group but hardcore players might be dissatisfied.