About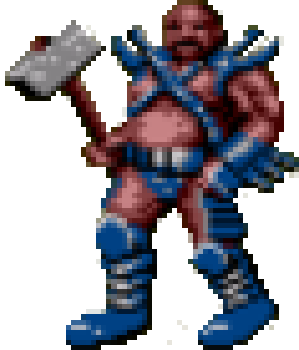 Golden Axe on the Master System is a scaled-back port of Sega's arcade classic. Although it's single player and you can only play as Ax-Battler, you can select any magic at the beginning of the game. It doesn't have the extra levels of the Genesis version, but it's a little harder than that port.
Marquee
Story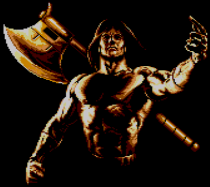 The residents of the once-peaceful city of Yuria have lost the legendary Golden Axe- the very thing that had shielded them from evil for so long. It is now in the hands of the unscrupulous titan, Death-Adder.
Tarik, the seasoned warrior whose skill with his giant sword is both praised and feared throughout the land, has come forth to try and wrest the Axe from the grasp of the black-hearted warlord.
Help Tarik to battle the many types of bandits that Death-Adder has amassed to protect himself. Using the sword, and certain very special magical powers, guide Tarik through the gauntlet of bandits to Death-Adder's castle! He'll be waiting there for you, and he's terribly reluctant to give up the Golden Axe!
Are you brave enough to bring back the Axe, and thus restore tranquility to Yuria, or will you wind up just another victim of the evil warlord?
Trivia

In the western release of this game, they renamed Ax-Battler to Tarik.

The reason this game is able to pull of such huge sprites with little slowdown is because there ARE no sprites. All the graphics are rendered on the background layer which is less limited.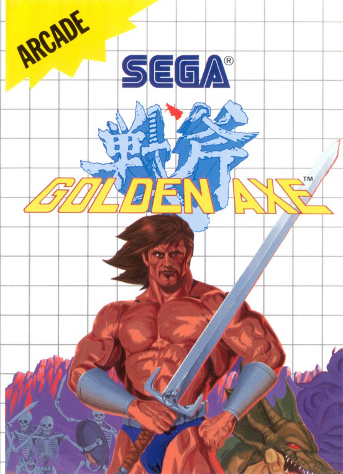 Release Info

Jan '89
Game
Combat
Style
Numbers

























The SMS port of Golden Axe is pretty good. It exclusively uses the background to accomplish large sprites, although the animations are really choppy as a result. Still, it captures Golden Axe's gameplay reasonably well, although unfortunately you can only play as Ax-Battler. This is one of the harder versions of the game thanks to the strong bosses.