About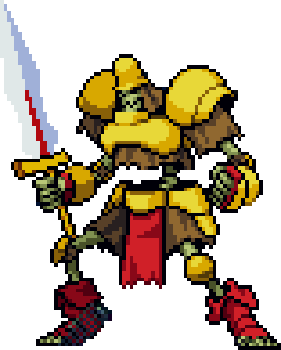 Guardian Heroes is a one-of-a-kind weapons-based brawler from Treasure. It sets itself apart from the pack by restricting vertical movement and adding a three-lane system that you can jump between, sort of like the Fatal Fury games. This allows for complex fighting game-style move inputs for advanced techniques. It also has an RPG stat and experience system, as well as allowing you to control a golden undead night in battle.
Marquee
Story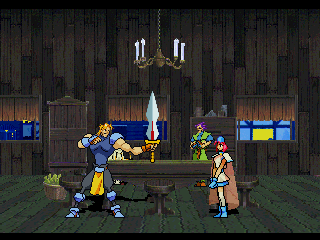 Heh, heh! This is great! I never thought we'd find such a great sword for ourselves! I wonder if anybody else is looking for it.

Hey! Be careful! It is an old sword! What will you do if it breaks?!

Don't worry! A great sword doesn't break easily.

Is this really the sword we've been looking for? Let me see it!

I don't care about that sword! I'm tired! Let's eat now.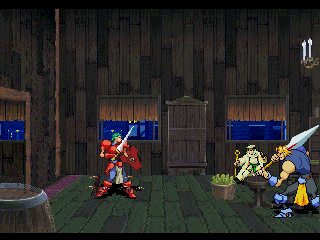 The Royal Knights are coming! Get ready!

What? Who are you?

Don't use that sword!

What? This is getting weird!

There's nothing we can do! Retreat!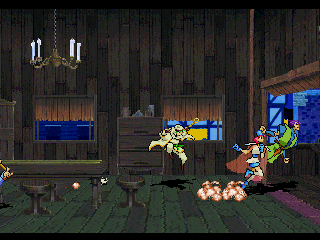 Trivia

This game was ported to Xbox Live as Guardian Heroes HD.

Like most Treasure games, Guardian Heroes is an offbeat, innovative, cartoony action game.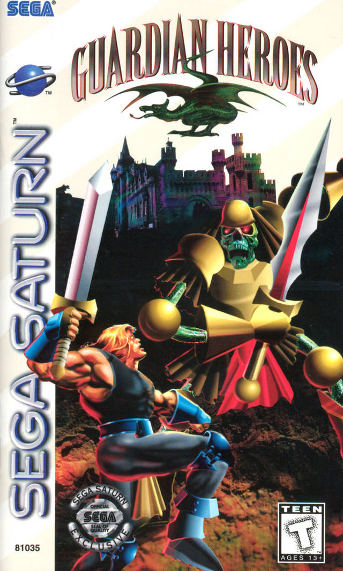 Release Info

Jan '96

Jan '96
Game
Combat
Weak, Strong, Jump, Select, Use
Style
Numbers

























I really don't like Guardian Heroes. I think its three lane system is gimmicky, rarely useful, and mainly serves to make the graphics ugly. Its fatal flaw is how much emphasis it puts on blocking, which slows down the action immensely and makes the combat feel sloppy and dissatisfying. The RPG elements are standard and don't add much. The music's okay.