About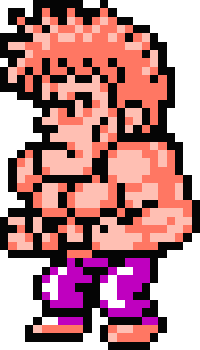 Mighty Final Fight is an NES-exclusive parody game from Capcom. It's like Mega Man meets Final Fight. It features cute, super-deformed characters, bright colors, and an extremely catchy and melodic soundtrack. It plays like Final Fight except you only fight two opponents at once and there's now an experience system where you level up and gain new moves.
Marquee
Story
This is Metro City. Within the walls of the city lives the daughter of the mayor, Jessica. Her beauty radiates throughout the city and gives the citizens the power to survive. But now a villain attempts to have this beacon of light all to himself.

I can't believe that I've actually fallen in love with the girl. She will be mine.....
A couple days later...

What?! Jessica... kidnapped...!?! What have you done to her, Cody?
Me?!! This is the work of the Mad Gear Gang.
What do you think, Guy?
Yes. There's not a moment to spare. Let's go!
Trivia

Mighty Final Fight is actually the third Final Fight game released, as it came out after Final Fight 2 on the SNES.

The composers for this game, Setsuo Yamamoto and Yujo Takehara, also composed for Mega Man X, Final Fight 2, and a couple of Street Fighter games.

This game has the opposite ending of Final Fight: instead of Guy beating up Cody because he was walking away from Jessica, Guy has to restrain horndog Cody from ruining Haggar's special moment with his daughter.

This game is heavily influenced by the NES version of Double Dragon. Both games feature combat against two opponents at once and have an experience system where each move grants different XP and you gain new moves by leveling up.

Mighty Final Fight is available on the GBA as part of Capcom Mini-Mix alongside Bionic Commando and Strider.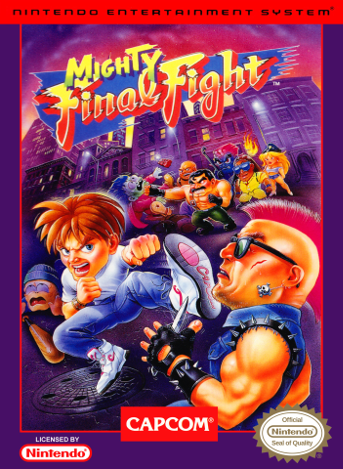 Release Info

Jul '93

Jun '93
Game
RPG Elements, Bonus stages
Combat
Style
Numbers
Credits

























Mighty Final Fight is easily one of the best games on the NES. It's solid combat has an innovative Double Dragon-esque EXP system, the super-deformed style is hilarious and unique, and the music is Mega Man-esque. The only downsides are that it's single-player only and super easy, especially compared to the original.