About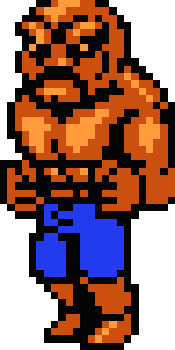 Double Dragon is a re-worked port of the arcade classic. It's infamously a single-player only game, but it compensates for this by adding an innovative experience system where you unlock new attacks by defeating enemies and leveling up. Like the original, it features a phenomenal soundtrack that strongly influenced the following decade of video game music.
Marquee
Story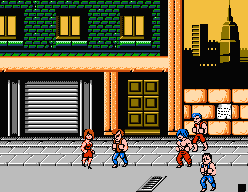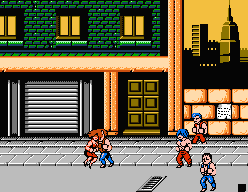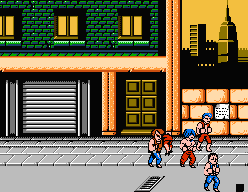 In the year 19XX, half of the world was ravaged by a nuclear war and violence ruled the streets in America. One of the most violent gang in America was called the Black Warriors, who ruled the streets with no mercy. Yet two siblings named Billy and Jimmy, trained in the arts of the Sousetsuken and owners of the Sousetsuken Dojo, were brave enough to face the Black Warriors. They taught their Martial Arts to their city and people gave them the nickname, the Double Dragon. Among Billy and Jimmys pupils, there was a female instructor named Marian, who was also Billys lover. The Black Warriors waste no time to capture her and lure Billy to their hideout. Now, Billy must penetrate the Black Warriors to save his girlfriend and face agaisnt the boss of the Black Warriors, Willy, once and for all. Billy enlists the help of his twin brother Jimmy in order to save Marian.
Trivia

There was a Double Dragon movie released that's widely considered to be awful and barely follows the story of the game.

The experience system that allows you to unlock new moves sort of makes a return in Double Dragon Neon, where you gain new moves by collecting mixtapes.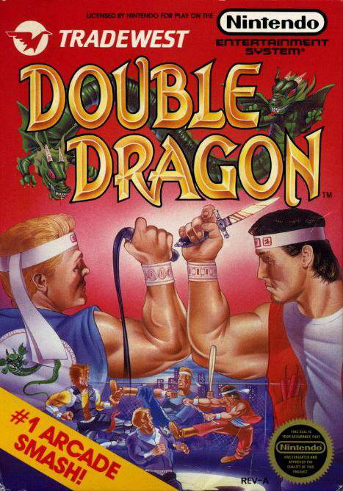 Release Info

Jun '88

Apr '88
Game
Combat
Style
Numbers

























Technos did an amazing job re-designing Double Dragon from the ground up for the NES. The EXP gimmick is awesome because it forces you to use bad attacks to unlock more effective ones. The gameplay is tight, satisfying, and challenging. There's some obnoxious platforming stuff but it's not hard to memorize and master. The soundtrack is superb.