About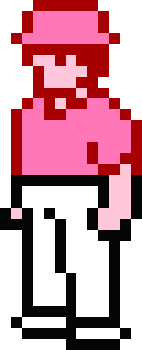 The Adventures of Gilligan's Island is an adaptation of the beloved TV series developed by Bandai for the NES. It barely qualifies as a brawler. Although it has 3D movement and a combat engine, the game is mainly about avoiding enemies like boars and snakes so you can escort Gilligan through various traps to fulfill mission objectives.
Marquee
Story

Gilligan

Skipper

Mr. Howell

Mrs. Howell

Professor

Mary Ann
IN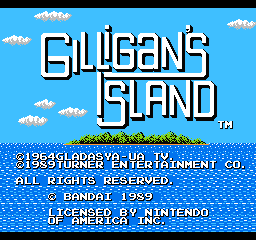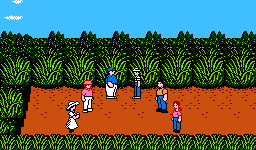 Skipper: "Now hear this everyone! It looks like a storm is coming tonight. We're going to have to build....."
Gilligan: "A large umbrella!"
Skipper: "Shut up, Gilligan! We have to build a hut to protect us from the storm. I want everyone to help gather the necessary materials. The professor will fix the transmitter, Mary Ann will make dinner, and the Howells cut logs."
Howell: "A Howell never does any work that requires manual labor! Go find a contractor, and be quick!"
Skipper: "Never mind, I'll do it myself! Gilligan has picked a place to build the hut! It's right where he's standing now!"
Gilligan: "Oh boy! This is a great spot to build a hut.
Trivia

One of the characters from the show, Ginger, is not present in this game for some reason.

In case you didn't know the back story, Gilligan's Island was a show about a group of white people who took a boat tour and got stranded on a tropical island. The show is all about their hilarious antics and failed attempts to escape.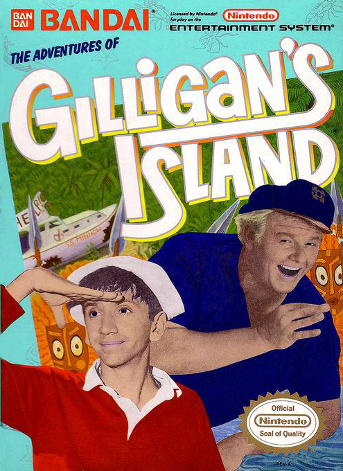 Release Info

Jul '90
Game
Combat
Style
Numbers

























I kinda put this game on here as a joke. It's not really a brawler. It's an exploration game with a strong emphasis on escort missions. It does barely have combat, but really you only fight bosses and try to avoid everything else. The text does a good job of conveying the show's humor, but the gameplay is generally dissatisfying.