About

Battletoads is Rare's flagship brawler that's notorious for its intense difficulty and unmatched variety. In fact, the majority of this game is composed of non-brawler levels like platforming and vehicle sections. Its combat is notable for its emphasis on dash-attacks and the 'Toad's ability to morph their body parts into giant weapons to unleash smash attacks. This is one of the few games where co-op mode is significantly harder because friendly fire is always on and when one player dies in certain sections, both players are forced to re-do it.
Marquee
Story
STARRING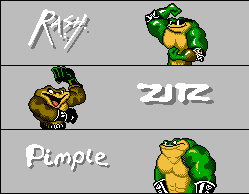 - THE STORY SO FAR -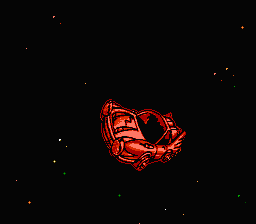 One day Pimple and Princess Angelica were out cruisin'
When suddenly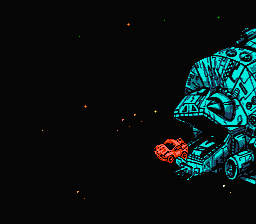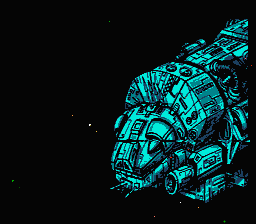 Pimple and the Princess were captured by the Dark Queen and taken to a nearby planet.

Hey 'Toads! The Dark Queen's kidnapped Pimple and Angelica and she's holding them in the Gargantua. Go get 'em, 'Toads!

Yeah! Let's get 'em back! I gotta craving for action! Take us to the rumble, coach!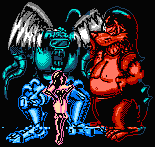 Not so fast Battlejerks! Before you even reach me you'll have to beat Robo-Manus and Big Blag.

Still fancy your chances ? Come to me now, if you dare! Ha - ha - ha - ha!
Trivia

Battletoads was created by Rare to compete with Konami's TMNT brawlers on the NES.

There was a Battletoads cartoon planned, but only one episode was ever made.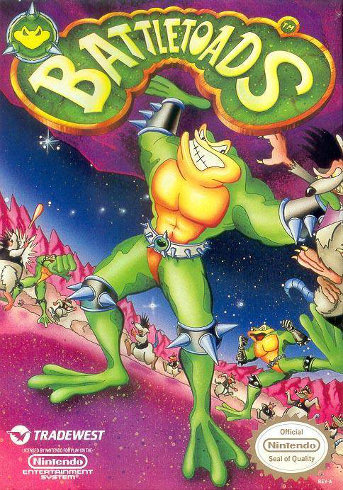 Release Info

Jul '91

Dec '91
Game
Combat
Style
Numbers

























I love Battletoads. Most people hate it because of its brutal difficulty, but that's what makes it so special. Its variety is unheard of and it's easily one the best looking and sounding NES games. Plus, it's really long yet never repetitive. For casual players, Battletoads is a nightmare. For hardcore ones, it's a dream come true.