About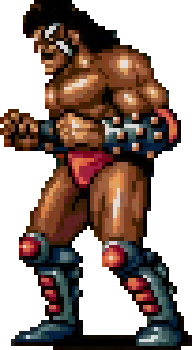 Streets of Rage 2 is widely considered to be the best console brawler ever created. It improves upon its predecessor across the board with deeper combat, more diverse characters, elaborate multi-part stages, and an even greater challenge. Its soundtrack is the stuff of legend.
Marquee
Story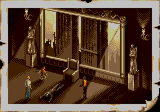 One year after the battle...
The city that had been plagued with crime and violence was safe and peaceful. However, evil has once again cast its shadow over the city.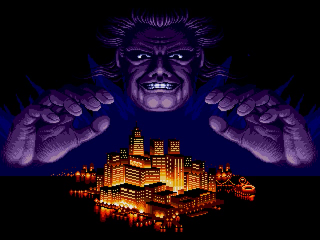 Mr. X, the Syndicate boss believed destroyed by the three young vigilantes, has come back to life stronger than ever. Thirsty for revenge, he kidnaps Adam in an attempt to lure Axel and Blaze into a trap!
Axel and Blaze set out to help their faithful companion, joined by Axel's friend Max, a wrestler, and Adam's kid brother, Skate. They're determined to save Adam and put Mr. X out of action!
Four young friends, rage burning inside them, make a stand for friendship and peace...
Trivia

In the Japanese box art, Axel strongly resembles Jean-Claude Van Damme and Mr. X looks quite a bit like Arnold Schwarzenegger.

There are a few hidden tracks in the sound test that aren't present in the actual game. Track 9 is a hot little ditty entitled Little Money Avenue. It was originally intended for a bonus stage but that idea was scrapped during development.

Yuzo Koshiro voices all the characters in this game. For Blaze, he sped up the recording to make it sound female.

In the Japanese version, Blaze's jump kick has a different animation showing her panties. This was changed for obvious reasons in the US and PAL releases.

The US version is known as Streets of Rage 2, in PAL regions it's Streets of Rage II, and in Japan it's known as Bare Knuckle II: The Requiem of the Deadly Battle.

Streets of Rage II is available on a ton of platforms, including Game Gear, Sega Master System, PSN, Xbox Live, Wii, Steam, and even mobile phones.

The "It's like Boo!" signs in the stadium stage are likely a reference to how the fat guy enemies have a similar flying bellyflop attack to the character Boo from the Dragonball Z series.

Many enemy names are references to anime characters, mostly from Berserk and Fist of the North Star. Some examples are Caska, Griphis, Heart, and Vehelits.

Konami seemed to rip-off Blaze's design for April O'Neil in TMNT: Tournament Fighters on the Genesis. The only thing distinguishing April are blue gloves and a bandanna.

In the beta, Axel's stationary special attack was a spinning hurricane kick rather than his signature Dragon Wing. Also, Max's walk animation was more ape-like.

When you enter a new area or defeat a wave on an elevator section, your health is restored slightly. Lower difficulties restore more health than challenging ones. This feature was likely implemented to give the player a greater incentive to use special attacks, which cost health. Therefore, you basically get one free special per area because it's going to be restored soon anyway.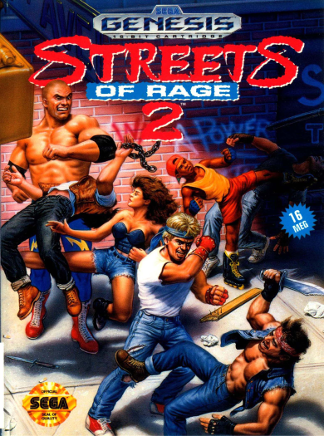 Release Info

Jan '92

Jan '93
Game
Combat
Invincibility + Knockdown
Style
Numbers
Credits
Akitoshi Kawano(Shout!DW)
Koji Utsunomiya(Shout!DW)

























If Final Fight is the king of the arcades, Streets of Rage 2 is definitely the king of the consoles. Its near-perfect combat, enemy design, and challenge make it always a pleasure to play. Its varied, imaginative, and multi-part stages are a blast to play. The graphics are vibrant and feature much larger sprites, while the soundtrack is beyond legendary.