About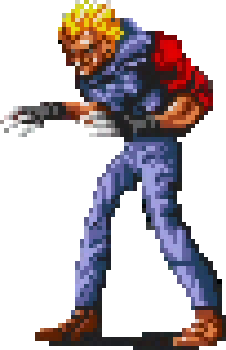 Streets of Rage is Sega's flagship brawler franchise for the Genesis. Created as a direct competitor to Final Fight on the SNES, it established the gold standard for console beat 'em ups with its simple gameplay, configurable challenge, legendary OST, and lagless two-player simultaneous action.
Marquee
Story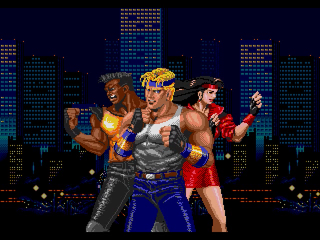 This city was once a happy, peaceful place... until one day, a powerful secret criminal organization took over. This vicious syndicate soon had control of the government and even the police force. The city has become a center of violence and crime where no one is safe.
Amid this turmoil, a group of determined young police officers has sworn to clean up the city. Among them are Adam Hunter, Axel Stone and Blaze Fielding. They are willing to risk anything... even their lives... on the...
Streets of Rage
Trivia

Streets of Rage innovated the genre by adding the vault technique, which allows you to transition from a front to a back grab and unleash suplexes at will.

The cover art features a Jason Voorhees-style enemy that isn't actually in the game. However, he would later make an appearance in Streets of Rage Remake on the PC.

The cop car in the screen-clearing special attack animation is from another Sega game, Cyber Police E-SWAT. Additionally, the original title for this game was going to be Dragon SWAT or D-SWAT.

Streets was developed by several members from Team Shinobi, who of course worked on the Shinobi series. It features the same font and several sound effects from Return of Shinobi on the Genesis.

Streets of Rage is available on several modern platforms, including PSN, Xbox Live, Steam, Wii, 3DS, and even mobile phones. It's also part of the 6-Pak compilation on Sega Genesis along with Golden Axe.

Streets of Rage was playable in arcades on Sega's Mega-Tech hardware, which was basically just a Genesis in an arcade cabinet.

If you wait around on the character select screen long enough, Blaze will wink at you.

Check out http://www.soronline.net for more Streets info!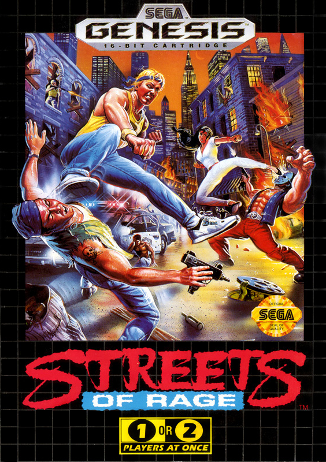 Release Info

Aug '91
Game
Combat
Invincibility + Knockdown
Style
Numbers
Credits
There is "No" Accounting for Tastes.

























This is the game that made me start taking brawlers seriously. Although its sprites and movesets are small, the phenomenal enemy design and unbelievable music grabbed me from the start and never let go. The challenge ranges from incredibly easy to blisteringly difficult. Streets nails all the fundamentals of the genre and deserves its place on the pedestal.