About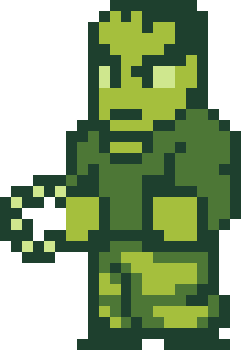 Nekketsu Kouha Kunio-kun: Bangai Rantou Hen is an original Kunio game for the Game Boy. Its combat engine is actually more similar to the very first Kunio game (i.e. Renegade) than Downtown Special (aka River City Ransom.) It also adds a crouch move that can be followed up with a mighty spinning uppercut as well as a gut-jumping attack. It features three difficulty settings and link cable support for two-player gameplay.
Marquee
Story
A MYSTERIOUS COMPANY NAMED MUNAKATA CAME TO TOWN, AND ITS WORKERS BEGAN TO HARASS THE TOWN'S PEOPLE. MUNAKATA'S PRESIDENT HAD AN ONLY SON NAMED YUJI. ONE DAY YUJI WAS PASSING BY NEKKETSU HIGH AND FELL IN LOVE WITH MIHO.

SO HE TRIED TO TAKE HER. LUCKILY HIRO HELPED MIHO

ESCAPE, BUT THEY CAUGHT UP WITH HIM.

HEARING THE NEWS, KUNIO HEADS OUT!
Trivia

This game was re-worked into Double Dragon II on the Game Boy (it has different graphics and music) for US audiences.

This is the only Kunio game with stun-based grabs, a gut-jump attack, a crouch move, or a flying uppercut.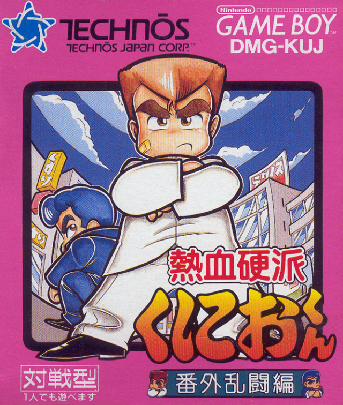 Release Info

Dec '90
Game
Combat
Style
Numbers

























Like Double Dragon II, this is a great Game Boy brawler with satisfying combat, nice graphics, and rockin' music. I personally like DD2's music better, but this isn't much worse. It's a great game to beat in one sitting, although the combat could use some work because uppercuts dominate the gameplay.