About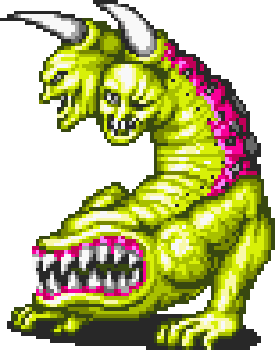 King of the Monsters 2 is a hybrid brawler/wrestling game with a giant monster theme from SNK. Unlike its predecessor, which focused on one-on-one combat, this game features traditional brawler stages as well as more elaborate boss fights and even a competitive mode. It's notable for its unique concept, bizarre enemy design, and huge movesets.
Marquee
Story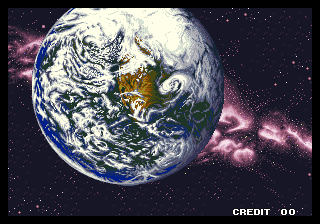 -1999-
3 YEARS LATER, ONLY 3 MONSTERS SURVIVED.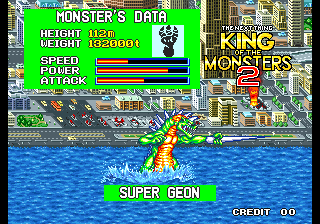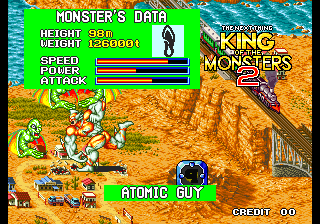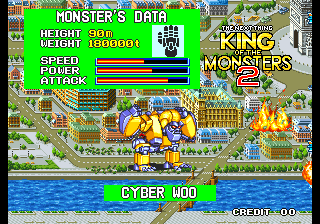 EVERYONE BELIEVED THEY WOULD RULE THE EARTH, BUT...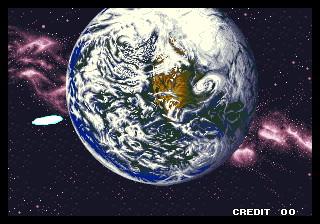 Trivia

This game was somewhat faithfully ported to the SNES. There's also a Genesis version, but it removes the brawler portions and is just a one-on-one fighter.

The monsters in this game are clearly based off of classic monster movies like Godzilla and King Kong.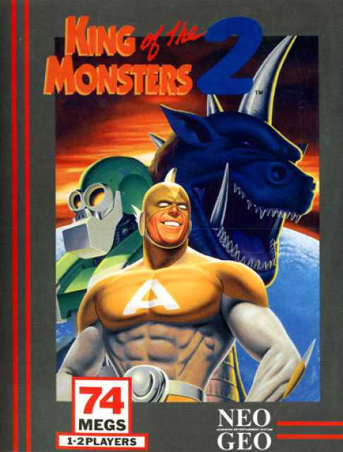 Release Info

Jan '92
Game
Combat
Style
Numbers
Arcade

























King of the Monsters 2 has a fantastic concept that's backed up by excellent enemy design and graphics. Its combat is satisfying but feels a little sloppy and sluggish. The brawler sections are somewhat limited because at its core it's a wrestling game. The special techniques are super imaginative and take the gameplay to the next level.