About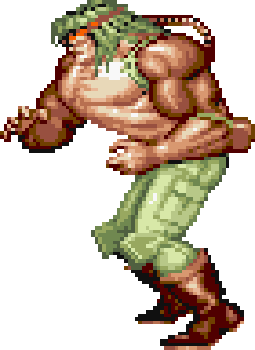 Captain Commando is a futuristic Final Fight alternative from Capcom that features ridiculous playable characters and bizarre enemies. It plays a lot like its predecessor but adds dashing, guns, vehicles, and four-player gameplay to the formula.
Marquee
Story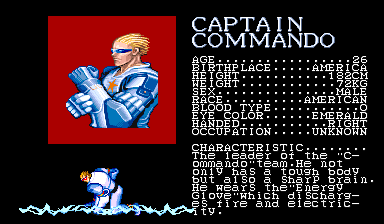 Captain Commando - The leader of the "Commando" team. He not only has a tough body but also a sharp brain. He wears the "Energy Glove" which discharges fire and electricity.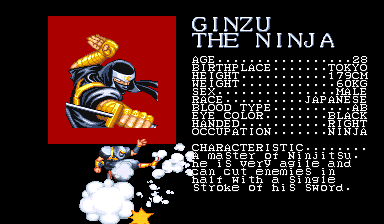 Ginzu the Ninja - A master of Ninjistu, he is very agile and can cut enemies in half with a single stroke of his sword.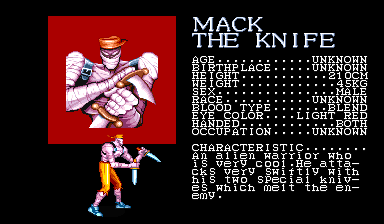 Mack the Knife - An alien warrior who is very cool.He attacks very swiftly with his two special knives which melt the enemy.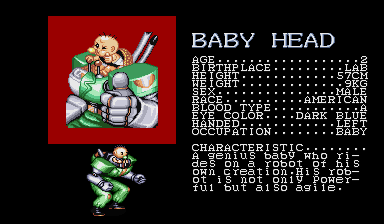 Baby Head - A genius baby who rides on a robot of his own creation. His robot is not only powerful but also agile.
Trivia

Captain Commando was originally created by Capcom USA as an unofficial mascot for Capcom. He would appear in instruction manuals for Capcom games on the NES.

Captain Commando, when shortened, becomes Cap Com.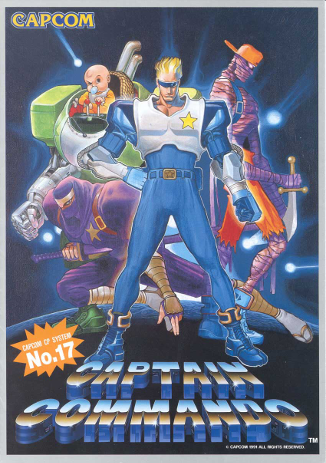 Release Info

Nov '91
Game
Combat
Invincibility + Knockdown
Style
Numbers
Arcade

























Captain Commando is a super disappointing follow-up to Final Fight. It adds little to the formula besides dash-attacks, and its graphics and sound seem to have taken a small step back. Also, the combat seems to lack impact. However, it's the first four-player Capcom brawler and the enemy designs are extremely weird and imaginative.